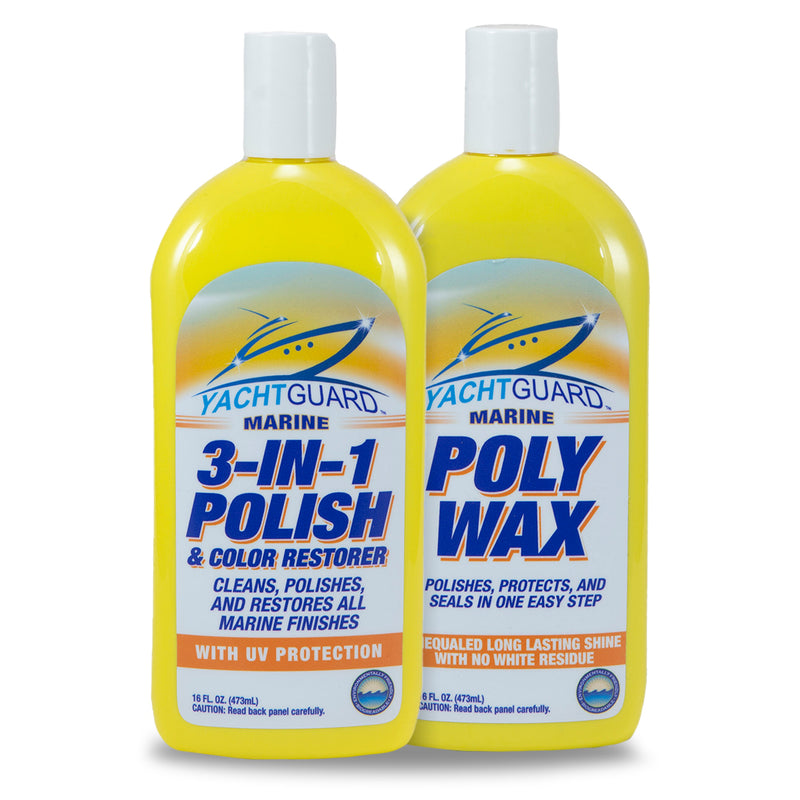 YachtGUARD® Lighthouse Combo Package
Regular price
$50.90
Save $-50.90
/
---
Bring the showroom shine back to your boat with the YachtGUARD® Lighthouse Combo Package. This boat detailing combo is perfect for restoring all marine finishes!
Includes:



YachtGuard® Marine® 3-in-1 Polish and Color Restorer


YachtGuard® Marine Poly-Wax


For best results, prep your surface with YachtGuard Marine 3-in-1 Polish to remove swirl marks, fine scratches, and oxidation. This polish doesn't contain silicone, fillers, or waxes and is safe for clear coats. After applying the polish and color restorer, follow with the poly-wax for long-lasting protection from the elements, including UV damage, dirt, salt, detergents, and oxidation. The easy-to-use formula of the YachtGuard® Marine Poly-Wax provides a high-gloss shine without the hard work of traditional waxing along with months of protection. Make your vessel a shining beacon on the sea and order the Lighthouse Combo Package today!